California's rockinest and rollinest  Elvis Tribute Band!!
SATURDAY MAY 30 2015

:
12             DOORS OPEN
1:15          FIRST SHOW
2:15         INTERMISSION
3               Raffle Prize/Door Prize  Winners Announced
3:45         SECOND SHOW
Dear friends, come out and visit us.  We have Lots of Lovely Ladies, Debonair Dateable Gentlemen,  Raffles, Door Prizes, Photobooth, Bar, Shirts, Jewelry, Easy Parking, Convenient Afternoon Schedule – we have it all !!!    Perfect for kids from 8 to 98.  Don't miss out – only once a year. In the spacious and air-conditioned Grand Ballroom of the plush Sheraton Sonoma County, bring your family out, see old friends and make new ones!   Come early and stay late ! First 50 attendees get an awesome free Elvis-style ring.      $10 for an Elvis-style Shirt, one per customer    $10 per Elvis-style ring, one per customer Direct all inquiries to:   Charles Likas, charles@westcoastelvistribute.com,  415-990-9039 OUTFIT CONTEST:  Two Prizes to be Awarded:  for the Best Elvis-Themed Outfit by a Lady and by a Gentleman.  Hope to see you there!  Charles Likas
+++++++++++++++++++++++++++++++++++++++
Check out these awesome pics from the Santa Rosa Press Democrat from our Saturday March 29 event :
SENIORS

:  can mail checks to  Charles Likas, 6 Beach Rd, Tiburon, CA 94920, $20 ea for Senior Ticket and/or Phone: 415-990-9039
FANTASTIC RAFFLE PRIZES FROM:  NAPA TRANCAS STEAKHOUSE,  CATTLEMEN'S STEAKHOUSE,   NAPA WINE TRAIN,  SONOMA SHERATON,  WILD GOAT BISTRO,  RED HEN CANTINA,  DEMPSEY'S RESTAURANT,  NAPA LINCOLN THEATER,  TOPSY'S KITCHEN,  BOVINE BAKERY,  RIVER POINTE CABINS,  FINESSE HAIR SALON,  PETALUMA PIE CO,  SPATINI SALON,  SUGO TRATTORIA,  SOFT SHELL SPA,  GIFT BASKET, EVEREST INDIAN RESTAURANT, NAPA COMPADRES GRILLE, AND MORE !!!! 100 % of all raffle proceeds go to  Operation With Love From Home to support our men and women who are supporting freedom overseas!!!  Masters of Ceremony; Elvis gal-pal Betty Grant, Charlotte "Miss Beadle" Stewart and producer Charles Likas.   415-990-9039   Charles@West-Coast-Elvis-Tribute.com   or Betty Grant 707-252-3532    With special awesome thanks to Betty Grant. Come out and meet and buy awesome jewelry from Elvis jeweler Artie Dadyan!     Come meet Elvis Artist Shawn Hughes!    Indoors in the Grand Ballroom of the Sheraton Petaluma.  FOR SALE: Awesome Elvis Jumpsuit T-shirts for only $13 !!!     DOOR PRIZES!!  Come out and make new friends.    All vocals performed completely live. You'll know you're in the right place when you see Elvis standing in the lobby!  With awesome thanks to : Lucille Miller, Angie Bridges, Glenda Erwin, Stephanie Hamlin, Greg Kunin, Dave Likas, Jerry, Peggy and Joan Larghi, and you all – the fans of the Man !
Have your picture taken with Miss Beadle from Little House on the Prairie, the ETAs, dancer Betty Grant, or standing next to Elvis [standup  ]
Lots and lots of Rock 'n roll fun: rings and shirts on sale for low, low tribute prices.   New friends and fun galore!  
Elvis was a symbol of the vitality, rebelliousness and good humor of America.  President Jimmy Carter
======================================================= **How many songs did Elvis record in his life time?
Did you know…?
"Can't Help Falling in Love" is set to the melody "Plaisir D'Amour," an 18th century French love song.
"Love Me Tender" is adapted from the tune of "Aura Lee" (or "Aura Lea"), a sentimental American Civil War ballad; it was published in 1861, and was also sung at the U.S. Military Academy at West Point.
"It's Now or Never" is adapted from the Italian standard, "'O Sole Mio", but the inspiration for it came from the song, "There's No Tomorrow", recorded by American singer, Tony Martin, in 1949
"Wooden Heart", created by Fred Wise, Ben Weisman, Kay Twomey and German bandleader Bert Kaempfert, was based on a German folk song by Friedrich Silcher, "Muss i' denn zum Städtele hinaus", originating from the Rems Valley in Württemberg, Southwest Germany. "Wooden Heart" features several lines from the original folk song, written in the German Swabian dialect, spoken in Württemberg.
Elvis Festival draws 200 fans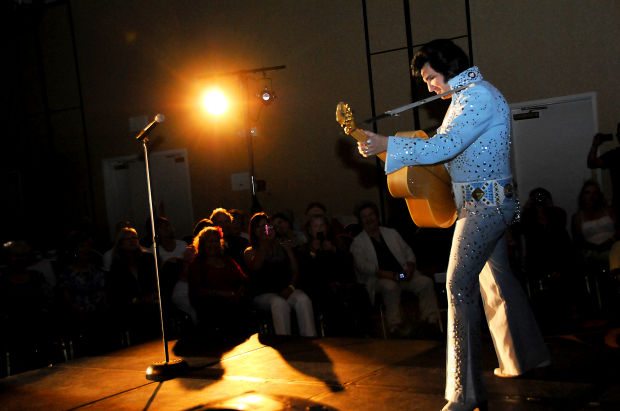 The Napa Valley Elvis Festival at the Marriott Hotel & Spa drew a host of lifelong fans, many of whom were teenagers when the "King of Rock and Roll" filmed "Wild in the Country" in St. Helena in 1961.
"I wouldn't have missed it for the world," said Nadine Robson, 73, of Napa, after talking with actress Charlotte Stewart, who worked in 1967 for two days with Presley on the movie "Speedway," in which she appears as a waitress.
As she signed autographs on a photo of Elvis and her shot during the filming of the movie, Stewart said she was a 25-year-old actress when she got the part.
"I was plain speechless," she said. "I was thrilled to be working with him. But of course, I didn't want to show that."
Both Stewart, 72, and Betty Grant, another Napan who met Elvis in Los Angeles in the late 1950s before he entered the U.S. Army, described the music icon fondly to the fans gathered in the hotel's ballroom.
"He was so sweet. He was such a Southern gentleman," Stewart said. "I was very impressed with him."
Grant, who is now 77, was working at a bank in Beverly Hills when she managed to meet Elvis on several occasions in the late 1950s when the star visited Southern California.
"Yes, he was a good kisser," said Grant, who brought pictures of herself with Elvis taken in 1957.
Fans, who paid $25 to $35 to attend the festival, also watched "Wild in the Country" and heard Las Vegas-based Elvis performer Donny Edwards sing "Love Me Tender," "Take My Hand, Precious Lord," "Hound Dog" and other Presley hits.
Festival producer Charles Likas of Tiburon, an Elvis fan since age 12, said he was very happy with Saturday's turnout, given that it was the inaugural Elvis Festival in Napa.
"I decided to put on the festival myself because I looked around and I realized that nowhere in the region is anybody doing anything of this nature for Elvis," said Likas, 50, who chose Napa because Presley filmed "Wild in the Country" in the valley. Elvis bashes take place in the South and Midwest, but in Northern California, Likas said, "there is this deafening silence."
"He's the biggest star in the world and no one in California does anything for him," he said. "So I said, 'You know what, I'm going to put it on.' And I have limited resources, so I knew it couldn't be very big or very sophisticated."
Likas set out to organize the festival last fall with the help of a half-dozen friends. He sent out a "bunch" of emails to "stars," inviting them to Napa. Priscilla Presley, the singer's former wife, did not respond. Neither did the others.
"It was pretty challenging," said Likas, a financial analyst for the federal government. "I'm just a federal employee by day. I'm just a mild-mannered John Q. Public. So there was a big learning curve."
Likas' brother, David, volunteered at the festival Saturday, as did his niece, Stephanie. But his mother and father did not. "My parents were too embarrassed to come," he said, laughing.
"It was a terrific learning experience," said Likas, referring to the inaugural festival.
"I didn't lose more than I could afford to lose," said Likas, who did not disclose his budget. "But no vacations this year."
Did You See Elvis ????
                                                                    1954
17 July Memphis TN, Bon Air Club 30 July Memphis TN, Overton Park Shell 1 August West Memphis TN, KWEM Radio 7 August Memphis TN, Eagle's Nest 16 August Memphis TN, Eagle's Nest 18 August Memphis TN, Bellevue Par 27 August Memphis TN, Eagle's Nest 29 August Memphis TN, Kennedy Hospital, Gerwell Road 9 September Memphis TN, Lamar Airways Shopping Center 18 September Memphis TN, Eagle's Nest 24 September Memphis TN, Eagle's Nest 25 September Memphis TN, Eagle's Nest 1 October Memphis TN, Eagle's Nest 2 October Nashville, Grand Ole Opry, Ryman Auditorium 6 October Memphis TN, Eagle's Nest 8 October Atlanta GA, Silver Slipper 9 October Memphis TN, Eagle's Nest 13 October Memphis TN, Eagle's Nest 16 October Shreveport Louisiana, Hayride, Municipal Auditorium 20 October Memphis TN, Eagle's Nest 23 October Shreveport Louisiana Hayride, Municipal Auditorium 29 October Memphis TN, Eagle's Nest 30 October Memphis TN, Eagle's Nest 6 November Shreveport Louisiana Hayride, Municipal Auditorium 8 November Memphis, Memphis State 13 November Shreveport Louisiana Hayride, Municipal Auditorium 17 November Memphis TN, Eagle's Nest 19 November Shreveport Lake Cliff Club 20 November Shreveport Louisiana Hayride 21 November Houston Texas, Magnolia Gardens 21 November Houston Texas, Cook's Hoe-Down Club 22 November Gladewater Texas, KSIJ Radio, Mint Club 23 November Gladewater Texas, Roundup Club 24 November New Boston Texas 25 November Houston Texas, Palladium Club 26 November Houston Texas, Palladium Club 27 November Shreveport, Louisiana Hayride 2 December Helena Arkansas, Catholic Club 3 December Texarkana Arkansas, Municipal Auditorium 4 December Shreveport, Louisiana Hayride 10 December Memphis, Eagle's Nest 11 December Shreveport, Louisiana Hayride 18 December Shreveport, Louisiana Hayride 22 December Shreveport, Lake Cliff Club 25 December Shreveport, Louisiana Hayride 28 December Houston Texas, Cook's Hoe-Down Club
                                                                  1955
1 January Houston Texas, Eagles Hall 4 January Odessa Texas, High School Auditorium 5 January San Angelo, City Auditorium 6 January Lubbock, Cotton Club 7 January Midland, Midland high School 12 January Clarksdale Ms, City Auditorium 13 January Helena Arkansas, Catholic Club 14 January Marianna Arkansas 17 January Boonsville Ms, Northeast Mississippi Community College 18 January Corinth Ms, Acorn Country Courthouse Assembly Hall 19 January Sheffield AL 20 January Leachville Arkansas 21 January Sikeston MO 24 January Hawkins Texas 25 January Tyler Texas 26 January Gilmer Texas 27 January Longview Texas 28 January Gaston Texas 4 February New Orleans 6 February Memphis 7 February Ripley Miss. 10 February Alpine Texas 11 February Carlsbad NM 12 February Carlsbad NM 13 February Lubbock Texas 13 February Lubbock Texas 14 February Roswell NM 15 February Abilene Texas 16 February Odessa Texas 17 February San Angelo Texas 18 February West Monroe LA 20 February Little Rock, AR 21 February Camden AR 22 February Hope AR 23 February Pine Bluff AR 24 February Bastrop LA 25 February Texarkana AR 26 February Cleveland OH 2 March Newport AR 2 March Newport AR 4 March DeKalb, Texas 8 March Helena AR 9 March Poplar Bluff MO 10 March Clarksdale MS 19 March College Station Texas 19 March Houston, Texas 20 March Houston, Texas 20 March Houston, Texas 30 March El Dorado Arkansas 31 March Longview, Texas 1 April Odessa, Texas 2 April Houston, Texas 7 April Corinth MS 8 April Glover MO 10 April Houston, Texas 10 April Houston, Texas 13 April Breckenridge, Texas 14 April Gainesville, Texas 15 April Stamford, Texas 15 April Stamford, Texas 16 April Dallas, Texas 20 April Grenada, MS, American Legion Hut 22 April Texarkana, AR. Arkansas Municipal Stadium 23 April Waco, Texas Heart O' Texas Coliseum 24 April Houston, Texas Magnolia Gardens 24 April Houston, Texas Cook's Hoe-Down Club 25 April Wichita Falls, Texas M-B Corral Club 25 April Seymour, Texas High School Auditorium 26 April Big Spring, Texas City Auditorium 29 April Lubbock, Texas Cotton Club 30 April Glade Water, Texas High School Gymnasium 1 May New Orleans, LA Municipal Auditorium 2 May Baton Rouge, LA High school Auditorium 4 May Mobile, AL Ladd Stadium 5 May Mobile, AL Ladd Stadium 7 May Daytona Beach, FL Peabody Auditorium 8 May Tampa, FL. Fr Homer Hesterly Auditorium 9 May Fort Myers, FL City Auditorium 10 May Ocala, FL South-Eastern Pavilion 11 May Orlando, FL Municipal Auditorium 12 May Jacksonville, FL Gator Bawl Baseball Park 13 May Jacksonville, FL Gator Bawl Baseball Park 14 May New Bern, NC Srine Auditorium 15 May Norfolk, VA Norfolk City Auditorium 16 May Richmond, VA Mosque Theatre 17 May Asheville, NC City Auditorium 18 May Roanoke, VA American Legion Auditorium 19 May Raleigh, NC Memorial Auditorium 20 May Kilgore, Texas KOCA Radio 22 May Houston, Texas Magnolia Gardens 22 May Houston, Texas Cook's Hoe-Down Club 25 May Meridian, MS American Legion Hall 26 May Meridian, MS Junior College Stadium 28 May Dallas, Texas Sportarium 29 May Forth Worth, Texas North Side Coliseum 29 May Dallas, Texas Sportarium 31 May Midland, Texas High School Auditorium 31 May Midland, Texas High School Field House 1 June Guymon, OK High school Auditorium 3 June Lubbock, Texas Johnson Connelly Pontiac Showroom 3 June Lubbock, Texas Fair Park Coliseum 5 June Hope, AR Fair Park Coliseum 8 June Sweetwater, Texas Auditorium 10 June Breckenridge, Texas American Legion Hall 14 June Bruce MS High School Gymnasium 15 June Belden MISS High School Gymnasium 17 June Stamford, Texas Roundup Hall, High School 18 June Dallas, Texas Sportarium 19 June Houston, Texas Magnolia Gardens (matinee) 19 June Houston, Texas Cook's Hoedown Club (eve) 20 June Beaumont Texas 21 June Beaumont Texas 23 June Lawton, OK McMahon Memorial Auditorium (8pm) 23 June Lawton, OK Southern Club (11pm) 24 June Altus, OK 26 June Biloxi, MS Slavonian Lodge Auditorium 27 June Kessler, MS Air Force Base 28 June Kessler, MS Air Force Base 29 June Mobile, AL Radio Ranch Club 30 June Mobile, AL Radio Ranch Club 1 July Plaquemine, LA Casino Club 3 July Corpus Christi, Texas Hoedoen Club 4 July Stephenville, Texas City Recreation Hall 4 July DeLeon, Texas Hodges Park (afternoon) 4 July Brownwood, Texas Soldier's & Sailor's Memorial Hall (8pm) 20 July Cape Girardeau MO Cape Arena 21 July Newport, AR Silver Moon Club 25 July Fort Myers, FL City Auditorium 26 July Orlando, FL Municipal Auditorium 27 July Orlando, FL Municipal Auditorium 28 July Jacksonville, FL Gator Stadium Baseball Park 29 July Jacksonville, FL Gator Stadium Baseball Park 30 July Daytona Beach, FL Peabody Auditorium 31 July Tampa, FL Ft Homer Hesterly Armony 1 August Tupelo, MS Fairgrounds 2 August Muscle Shoals, AL Sheffield Community 3 August Little Rock, AR. Robinson Auditorium 4 August Camden, AR. Municipal Auditorium 5 August Memphis Overton Park Shell 7 August Houston, Texas Magnolia Gardens (matinee) 7 August Houston, Texas Cook's Hoedown Club (eve) 8 August Tyler, Texas Mayfair Building 9 August Henderson, Texas Rodeo Arena 10 August Gladewater, Texas Bear Stadium 11 August Longview, Texas Reo Palm Isle Club 12 August Kilgore, Texas Driller Park 22 August Wichita Falls, Texas Spudder Park 23 August Bryan, Texas Saddle Club 24 August Conroe, Texas High School Football Field 25 August Austin, Texas Sport Center 26 August Gonzales, Texas Baseball Park 1 September New Orleans, LA Pontchartrain Beach 2 September Texarkana, AR Arkansas Municipal Stadium 3 September Dallas, Texas Sportarium Then Round Up Club 5 September Forrest City, AR St Francis Country Fair and Livestock Show 6 September Bono, AR High School Gymnasium 7 September Sikeston, AR National Guard Armony 8 September Clarksdale, MS City Auditorium 11 September Norfolk, VA City Auditorium 12 September Norfolk, VA City Auditorium 13 September New Bern, NC Shrine Auditorium 14 September Wilson, NC Fleming Stadium 15 September Roanoke, VA American Legion Auditorium 16 September Asheville, NC City Auditorium 17 September Thomasville, NC High School Auditorium 18 September Richmond, VA WRVA Theater 19 September Richmond, VAWRVA Theater 20 September Danville, VA Fairgrounds 21 September Raleigh, NC Memorial Auditorium 22 September Kingsport, TN Civic Auditorium 28 September Glober, MO B&B Club 3 October College Station, Texas G Rolle White Coliseum, A&M University 4 October Paris, Texas Boys Club Gymnasium 5 October Greenville, Texas City Auditorium 6 October San Marcos, Texas Southwest Texas State University (matinee) 6 October Austin, Texas Skyline Club 8 October Houston, Texas City Auditorium 10 October Brownwood Texas Soldiers and Sailors Memorial Hall 11 October Abilene, Texas Fair Park Auditorium 12 October Midland, Texas High School Auditorium 13 October Amarillo, Texas City Auditorium 14 October Odessa, Texas 15 October Lubbock, Texas Fair Park Auditorium later at Cotton Club 16 October Oklahoma City, OK 17 October El Dorado, AR Memorial Auditorium 19 October Cleveland, OH Circle Theatre 20 October Film locations (day) Circle Theatre (eve) 21 October St Louis MO Missouri Theatre 22 October St Louis MO Missouri Theatre 23 October St Louis MO Missouri Theatre 24 October Newport, AR Silver Moon Club 26 October Prichard, AL Greater Gulf States Fair Blakely Island 6 November Biloxi, MS Community House 7 November Keesler, MS Airmen's Club, Keesler Air Force Club 8 November Keesler, MS Airmen's Club, Keesler Air Force Club 12 November Carthage, Texas Carthage Milling Co (aft) 13 November Memphis, Ellis Auditorium 14 November Forrest City, AR High School Auditorium 15 November Sheffield, AL Community Center 16 November Camden, AR City Auditorium 17 November Texarkana Arkansas Municipal Auditorium later Hut Club 18 November Longview, Texas Reo Palm Isle Club 19 November Gladewater, Texas High School 25 November Port Arthur, Texas Woodrow Wilson Junior 2 December Atlanta, GA. Sport Arena 3 December Montgomery, AL State Coliseum 4-7 December Indianapolis, IN Lyric Theater 8 December Louisville, KY Rialto Theater 19 December Memphis, Ellis Auditorium
                                                                    1956
1 January St Louis, MO. Kiel Auditorium 3 January Boonesville, MS Von Theatre 4 January Jonesboro, AR Community Center 15 January San Antonio, Texas Municipal Auditorium 16 January Galveston, Texas 17 January Beaumont, Texas City Auditorium 18 January Austin, Texas Austin Coliseum 19 January Wichita Falls, Texas Memorial Auditorium 20 January Fort Worth, Texas North Side Coliseum 28 January TV-Soundtrack recordings for CBS 'Stage Show' CBS Studios, New York 4 February TV-Soundtrack recordings for CBS 'Stage Show' CBS Studios, New York 5 February Richmond, VA Mosque Theatre 6 February Greensboro, NC National Theatre 7 February High Point NC Center Theatre 8 February Raleigh, NC Amassador Theatre 9 February Spartanburg, SC Carolina Theatre 10 February Charlotte, NC Carolina Theatre (4 shows) 11 February TV-Soundtrack recordings for CBS 'Stage Show' CBS Studios, New York 12 February Norfolk, VA Montecello Auditorium 13 February Newport News VA Paramount Theatre 14 February Wilson, NC Charles L Coon High School Auditorium 15 February Burlington, NC Walt Williams High School 16 February Winston-Salem NC Carolina Theatre 18 February TV-Soundtrack recordings for CBS 'Stage Show' CBS Studios, New York 19 February Tampa, FL Ft Homer Hesterly Armony (3 shows) 20 February West Palm Beach, FL Palms Theatre (4 shows) 21 February Sarasota, FL Florida Theatre (4 shows) 22 February Waycross, GA City Auditorium (3 shows) 23 February Jacksonville, FL Gator Bowl 24 February Jacksonville, FL Gator Bowl 26 February Pensacola, FL Municipal Auditorium (3 shows) 14 March Atlanta, GA Fox Theatre (3 shows) 15 March Atlanta, GA Fox Theatre (3 shows) 17 March TV-Soundtrack recordings for CBS 'Stage Show' CBS Studios, New York 18 March Charleston, NC County Hall 19 March Columbia, SC Township Auditorium 20 March Augusta, GA Bell Auditorium 21 March Lexington, NC YMCA Gymnasium 22 March Richmond, VA Mosque Theatre 23 March Washington DC SS Mt Vernon Riverboat 24 March TV-Soundtrack recordings for CBS 'Stage Show' CBS Studios, New York 3 April TV-Soundtrack recordings for NBC 'Milton Berle Show' The USS Hancock, Naval Station – San Diego 4-5 April San Diego CA Arena 8 April Denver CO Coliseum 9 April Wichita Falls, Texas Municipal Auditorium 10 April Lubbock, Texas Fair Park Auditorium 11 April El Paso, Texas Coliseum 12 April Albuquerque, NM Armony 13 April Amarillo, Texas Municipal Auditorium 15 April San Antonio, Texas Municipal Auditorium 16 April Corpus Christi, TX Memorial Auditorium 17 April Waco, Texas Heart O' Texas Coliseum 18 April Tulsa, OK Fairgrounds Pavilion 19 April Oklahoma City, OK Municipal Auditorium 20 April Fort Worth, TX North Side Convention Center 21 April Houston, Texas City Auditorium (2 shows) 23 April – 6 May Las Vegas, NV Frontier Hotel 13 May St Paul, MN Auditorium (mat) 13 May Minneapolis, MN City Auditorium (eve) 14 May La Crosse WI Mary E Sawyer Auditorium (2 shows) 15 May Memphis, TN Ellis Auditorium 16 May Little Rock, AR Robinson Auditorium (2 shows 17 May Springfield, MO Shrine Mosque 18 May Wichita, KS. Wichita Forum (2 shows) 19 May Lincoln, NE University Of Nebraska Coliseum 20 May Omaha, NE Civic Auditorium Arena (two shows) 21 May Topeka, KS Municipal Auditorium 22 May Des Moines IA Veterans' Memorial Auditorium 23 May Sioux City, IA Municipal Auditorium 24 May Kansas City, MO Municipal Auditorium 25 May Detroit, MI Fox Theatre 26 May Columbus, OH Veteran Memorial Auditorium (two shows) 27 May Dayton, OH University Of Dayton Field House 3 June Oakland, CA Auditorium Arena 5 June TV-Soundtrack recordings for NBC 'Milton Berle Show Hollywood 6 June San Diego, CA San Diego Arena 7 June Long Beach, CA Municipal Auditorium 8 June Los Angeles, CA Shrine Auditorium 9 June Phoenix, AZ State Fairground 10 June Tucson, AZ Rodeo Grounds 22-24 June Atlanta, GA Paramount Theatre (ten shows in three days) 25 June Savannah, GA Sports Arena 26 June Charlotte, NC Coliseum 27 June Augusta, GA Bell Auditorium 28 June Charleston, SC College Park Baseball Field 30 June Richmond, VA Mosque Theatre 1 July TV-Soundtrack recordings for NBC 'Steve Allen Show' The Hudson Theatre, New York 4 July Memphis, TN Russwood Park 3, 4 August Miami, FL Olympia (7 shows in 2 days) 5 August Tampa, FL Fort Homer Hesterly Armory (2 shows) 6 August Lakeland, FL Polk Theatre (3 shows) 7 August St Petesburg, FL Florida Theatre (3 shows) 8 August Orlando, FL Municipal Auditorium 9 August Daytona Beach, FL Peabody Auditorium 10, 11 August Jacksonville, FL Florida State Theatre (3 shows per day) 12 August New Orleans, LA Municipal Auditorium (2 shows) 9 September TV-Soundtrack recordings for NBC 'Toast of the Town' CBS Studios, Hollywood 26 September Tupelo, MISS Mississippi-Arkansas Fairgrounds 11 October Dallas, Texas Cotton Bowl 12 October Waco, Texas Heart O' Texas Coliseum 13 October Houston, Texas Sam Houston Coliseum (2 shows) 14 October San Antonio, Texas Bexar Country Coliseum 28 October TV-Soundtrack recordings for NBC 'Toast of the Town' CBS Studios, Hollywood 22 November Toledo OH Sports Arena (two shows) 23 November Cleveland, OH 24 November Troy, OH Hobart Arena (2 shows) 25 November Louisville, KY Jefferson County Armory
                                                                    1957
6 January New York, NY Ed Sullivan Show (TV Broadcast) 28 March Chicago, IL International Amphitheatre 29 March St Louis MO Kiel Auditorium 30 March Fort Wayne, Memorial Coliseum 31 March Detroit, MI Olympia Stadium (2 shows) 1 April Buffalo, NY Memorial Coliseum 2 April Toronto, Can Maple Leaf Gardens (2 shows) 3 April Ottawa, Can Auditorium (2 shows) 5, 6 April Philadelphia, PA Sports Arena (4 shows) 29 August Spokane, WA Memorial Stadium 31 August Vancouver, Can Empire Stadium 1 September Tacoma, WA Lincoln Bowl (mat) 1 September Seattle, WA Sick's Stadium (eve) 2 September Portland, OR Multnomah Stadium 27 September Tupelo, MISS Fairground 26 October San Francisco, CA Civic Center (2 shows) 27 October Oakland, CA Oakland Auditorium 28, 29 October Los Angeles, CA Pan Pacific Auditorium 10 November Honolulu, HI Honolulu Stadium (2 shows) 11 November Schofield Barracks, HI Post Bowl
                                                                      1961
25 February Memphis TN, Afternoon and Evening show 25 March Honolulu Hawai
                                                                        1968
27 June Burbank California, 2 sessions for NBC TV Special (6 & 8 PM) 29 June Burbank California, 2 sessions for NBC TV Special (6 & 8 PM) 20, 21, 30 June Studio recordings for NBC TV Special
                                                                         1969
31 July – 28 August Las Vegas Nevada, International Hotel
                                                                        1970
26 January – 23 February International Hotel, Las Vegas, Nevada 27 February – 1 March Astrodome, Houston Texas 10 August – 7 September International Hotel, Las Vegas, Nevada 9 September Phoenix, Arizona 10 September St Louis, Missouri 11 September Detroit, Michigan 12 September Miami Beach Convention Center, Florida 13 September Tampa, Florida 14 September Mobile, Alabama 10 November Oakland, California 11 November Portland, Oregon 12 November Seattle, Washington 13 November San Francisco, California 14 November Los Angeles, California 15 November San Diego, California 16 November Oklahoma City, Oklahoma 17 November Denver, Colorado
                                                                         1971
26 January – 23 February International Hotel, Las Vegas, Nevada 20 July – 2 August Sahara Tahoe Hotel, Stateline, Nevada 9 August – 6 September International Hotel, Las Vegas, Nevada 5 November Minneapolis 6 November Cleveland, Ohio 7 November Louisville, Kentucky 8 November Philadelphia, Pennsylvania 9 November Baltimore, Maryland 10 November Boston, Massachusetts 11 November Cincinnati, Ohio 12 November Houston, Texas 13 November Dallas, Texas 14 November Tuscaloosa, Alabama 15 November Kansas City, Missouri 16 November Salt Lake City Utah
                                                                       1972
26 January – 23 February International Hotel, Las Vegas, Nevada 5 April Buffalo, New York 6 April Detroit, Michigan 7 April Dayton, Ohio 8 April Knoxville, Tennessee 9 April Hampton Roads, Virginia 10 April Richmond, Virginia 11 April Roanoke, Virginia 12 April Indianapolis, Indiana 13 April Charlotte, North Carolina 14 April Greensboro, North Carolina 15 April Macon, Georgia 16 April Jacksonville, Florida 17 April Little Rock, Arkansas 18 April San Antonio, Texas 19 April Albuquerque, New Mexico 9-10-11 June Madison Square Garden New York 12 June Fort Wayne, Indiana 13 June Evansville, Indiana 14-15 June Milwaukee, Wisconsin 16-17 June Chicago, Illinois 18 June Fort Worth, Texas 19 June Wichita, Kansas 20 June Tulsa, Oklahoma 4 August – 4 September Hilton Hotel, Las Vegas, Nevada 8 November Lubbock, Texas 9 November Tucson, Arizona 10 November El Paso, Texas 11 November Oakland, California 12-13 November San Bernardino, California 14-15 November Long Beach, California 17-18 November Honolulu, Hawaii
                                                                      1973
12 January Honolulu, Hawaii (Alternate Aloha) 14 January Honolulu, Hawaii (Aloha from Hawaii) 26 January – 23 February Hilton Hotel, Las Vegas, Nevada 22 April Phoenix, Arizona 23-24 April Anaheim, California 25 April Fresno, California 26 April San Diego, California 27 April Portland, Oregon 28 April Spokane, Washington 29 April Seattle, Washington 30 April Denver, Colorado 4 – 16 May Sahara Tahoe Hotel, Stateline, Nevada 20 June Mobile, Alabama 21 June Atlanta, Georgia 22-24 June Uniondale, New York 25-26 June Pittsburgh, Pennsylvania 27 June Cincinnati, Ohio 28 June St Louis, Missouri 29-30 June Atlanta, Georgia 1 July Nashville, Tennessee 2 July Oklahoma City, Oklahoma 3 July Atlanta, Georgia 6 August – 3 September Hilton Hotel, Las Vegas, Nevada
                                                                      1974
26 January – 9 February Hilton Hotel, Las Vegas, Nevada 1-2 March Oral Roberts University, Tulsa, Oklahoma 3 March Astrodome, Houston, Texas (2) 4 March Civic Centre, Monroe, Louisiana 5 March University Memorial Coliseum Auburn, Alabama 6 March Garrett Coliseum, Montgomery, Alabama 7 March Civic Centre, Monroe, Louisiana 9 March Charlotte Coliseum, Charlotte, North Carolina (2) 10 March Roanoke Civic Centre, Roanoke, Virginia 11 March Coliseum, Hampton Roads, Virginia 12 March Coliseum, Richmond, Virginia 13 March Coliseum, Greensboro, North Carolina 14 March Murphy Athletic Center, Murfreesboro, Tennessee 15 March Stokeley Athletic Center, Knoxville, Tennessee 16-17 March Mid-South Coliseum, Memphis, Tennessee (4) 18 March Coliseum, Richmond, Virginia 19 March Murphy Athletic Center, Murfreesboro, Tennessee 20 March Mid-South Coliseum, Memphis, Tennessee 10 May Swing Auditorium, San Bernardino, California 11 May Forum, Los Angeles, California 12 May Selland Arena, Fresno, California 13 May Swing Auditorium, San Bernardino, California 16-27 May Sahara Tahoe Hotel, Stateline, Nevada 15-16 June Tarrant County Convention Center, Fort Worth, Texas (4) 17-18 June University Of Louisiana Assembly Center, Baton Rouge, Louisiana (2) 19 June Civic Center, Amarillo, Texas 20 June Veterans Memorial Auditorium, Des Moines, Iowa 21 June Convention Center, Cleveland, Ohio 22 June Civic Center, Providence, Rhode Island 23 June Spectrum, Philadelphia, Pennsylvania (2) 24 June International Convention Center, Niagara Falls, New York (2) 25 June St John's Arena Columbus, Ohio 26 June Freedom Hall, Louisville, Kentucky 27 June Assembly Hall, Bloomington, Indiana 28 June Milwaukee Arena Milwaukee, Wisconsin 29 June Municipal Auditorium, Kansas City, Missouri (2) 30 June – 1 July Civic Auditorium, Omaha, Nebraska (3) 2 July Salt Palace, Salt Lake City, Utah 19 August – 2 September Hilton Hotel, Las Vegas, Nevada 27-28 September College Park Field House, Baltimore, Maryland 29 September Olympia Stadium, Detroit, Michigan 30 September – 1 October Notre Dame Convention Center, South Bend, Indiana 2-3 October Civic Center, St Paul, Minnesota 4 October Olympia Stadium, Detroit, Michigan 5 October Espo Convention Center, Indianapolis, Indiana 6 October University of Dayton Arena, Dayton, Ohio 7 October Levitt Arena, Kansas City Missouri 8 October Convention Center San Antonio, Texas 9 October Expo Center, Abilene, Texas 11-14 October Sahara Tahoe Hotel, Stateline, Nevada
                                                                      1975
18 March – 1 April Hilton Hotel Las Vegas Nevada 24 April Coliseum Macon Georgia 25 April Veterans Memorial Coliseum Jacksonville Florida 26 April Curtis Hixson Hall Tampa Florida (2) 27-28 April Lakeland Civic Center Lakeland Florida (3) 29 April Murphy Athletic Center Murfreesboro Tennessee 30 April – 2 May Omni Atlanta Georgia (3) 3 May Civic Center Monroe Louisiana (2) 4 May Civic Center Lake Charles Louisiana (2) 5 May State Fair Coliseum Jackson Missouri 6-7 May Murphy Athletic Center Murfreesboro Tennessee 30 May – 1 June Von Braun Civic Center Huntsville Alabama 2 June Mobile Municipal Auditorium Mobile Alabama 3 June Memorial Auditorium Tuscaloosa Alabama 4-5 June Hofheinz Pavilion Houston Texas 6 June Memorial Auditorium Dallas Texas 7 June Hirsch Coliseum Shreveport Louisiana 8-9 June State Fair Coliseum Jackson Mississipp 10 June Mid-South Coliseum Memphis Tennessee 8 July Myriad Convention Center Oklahoma City Oklahoma 9 July Hulman Civic Center Terra Haute Indiana 10 July Cleveland Coliseum Cleveland Ohio 11-12 July Civic Center Charleston West Virginia 13 July International Convention Center Niagara Falls New York (2) 14-15 July Civic Center Springfield Massachusetts 16-17 July Veterans Memorial Coliseum New Haven Connecticut 18 July Cleveland Coliseum Cleveland Ohio 19 July Nassau Coliseum Uniondale New York 20 July Norfolk Virginia 21 July Greensboro Coliseum Greensboro North Carolina 23-24 July Civic Center Asheville North Carolina 18-20 August Hilton Hotel Las Vegas Nevada 2-15 December Hilton Hotel Las Vegas Nevada 31 December Pontiac Michigan
                                                                       1976
17 – 19 March Freedom Hall Jonson City Tennessee 20 March Coliseum Charlotte North Carolina 21 March Riverfront Stadium Cincinnati Ohio 22 March Kiel Auditorium St Louis Missouri 21 April Kemper Arena Kansas City Missouri 22 April Civic Auditorium Omaha Nebraska 23 April McNichols Arena Denver Colorado 24 April Sports Arena San Diego California 25 April Long Beach Arena Long Beach California 26 April Seattle Coliseum Seattle Washington 27 April Coliseum Spokane Washington 30 April – 9 May Sahara Tahoe Hotel Stateline Nevada 27 May Assembly Hall Bloomington Indiana 28 May Hilton Coliseum Ames Iowa 29 May Myriad Convention Center Oklahoma City Oklahoma 30 May Ector County Coliseum Odessa Texas 31 May Municipal Coliseum Lubbock Texas 1 June Community Center Arena Tucson Arizona 2 June Civic Center El Paso Texas 3 June Tarrant County Convention Center Fort Worth Texas (4) 4-6 June Omni Atlanta Georgia 25 June Memorial Auditorium Buffalo 26 June Civic Center Providence Rhode Island 27 June Capital Centre Landover Maryland 28 June Spectrum Philadelphia Pennsylvania 29 June Coliseum Richmond Virginia 30 June Greensboro Coliseum Greensboro North Carolina 1 July Hirsch Coliseum Shreveport Louisiana 2 July Assembly Center Baton Rouge Louisiana 3 July Tarrant County Convention Center Fort Worth Texas 4 July Mabee Center Oral Roberts University Tulsa 5 July Mid-South Coliseum Memphis Tennessee 23 July Freedom Hall Louisville Kentucky 24 July Civic Center Charleston West Virginia 25 July Onondaga War Memorial Auditorium Syracuse New York 26 July Community War Memorial Auditorium Rochester New York 27 July Onondaga War Memorial Auditorium Syracuse New York 28 July Civic Center Hartford Connecticut 29 July Civic Center Springfield Massachusetts 30 July Veterans Memorial Coliseum Hartford Connecticut 31 July – 1 August Hampton Roads Coliseum Hampton Roads Virginia 2 August Civic Center Roanoke Virginia 3-5 August Cumberland County Memorial Auditorium Fayetteville North Caroline 27 August Convention Center San Antonio Texas 28 August The Summit, Houston Texas 29 August Mobile Municipal Auditorium Mobile Alabama 30 August Memorial Auditorium Tuscaloosa Alabama 31 August Coliseum Macon Georgia 1 September Memorial Coliseum Jacksonville Floridia 2 September Curtis Hixson Hall Tampa Florida 3 September Bay Front Center St Petersburg Florida 4 September Civic Center Lakeland Florida 5 September State Fair Civic Center Jackson Mississippi 6 September Von Braun Civic Center Huntsville Alabama 7 September Convention Center Pine Bluff Arkansas 14-15 October Chicago Stadium Chicago Illinois 16 October Duluth Minnesota 17 October Metropolitan Sports Center Minneapolis Minnesota 18 October Arena Sioux Falls South Dakota 19 October Dane County Coliseum Madison Wisconsin 20 October Notre Dame Athletic and Convention Center South Bend Indiana 21 October Wings Stadium Coliseum Kalamazoo Michigan 22 October Assembly Hall Champaign Illinois 23 October Cleveland Coliseum Cleveland Ohio 24 October Robeerts Memorial Stadium Evansville Indiana 25 October Memorial Coliseum Fort Wayne Indiana 26 October University of Dayton Arena Dayton Ohio 27 October Southern Illinois University Arena Carbondale Illinois 24 November Centennial Coliseum Reno Nevada 25 November McArthur Court Eugene Oregon 26 November Memorial Coliseum Portland Oregon 27 November McArthur Court Eugene Oregon 28-29 November Cow Palace San Francisco California 30 November Anaheim Convention Center Anaheim California 2-12 December Hilton Hotel Las Vegas Nevada 27 December Henry Levitt Arena Wichita Kansas 28 December Memorial Auditorium Dallas Texas 29 December Civic Center Birmingham Alabama 30 December Omni Atlanta Georgia 31 December Civic Center Arena Pittsburgh Pennsylvania
                                                                        1977
12 February Sportatorium Hollywood Florida 13 February Civic Auditorium West Palm Beach Florida 14 February Bay Front Center St. Petersburg Florida 15 February Sports Stadium Orlando Florida 16 February Garrett Coliseum Montgomery Alabama 17 February Savannah Civic Center 18 February Carolina Coliseum Columbia South Carolina 19 February Freedom Hall Johnson City Tennessee 20-21 February Coliseum Charlotte North Carolina 23 March Arizona State University Athletic Center Phoenix Arizona 24 March Civic Center Amarillo Texas 25-26 March Lloyd Noble Center Norman Oklahoma 27 March Taylor County Coliseum Abilene 28 March Municipal Auditorium Austin Texas 29-30 March Rapides Parish Coliseum Alexandria Louisiana 21 April Greensboro Coliseum Greensboro North Carolina 22 April Olympia Stadium Detroit Michigan 23 April Centennial Hall Toledo Ohio 24 April Crisler Arena Ann Arbor Michigan 25 April Civic Center Saginaw Michigan 26 April Wings Stadium Kalamazoo Michigan 27 April Milwaukee Arena Milwaukee Wisconsin 28 April Brown County Veteran's Memorial Stadium Green Bay Wisconsin 29 April The Arena Duluth Minnesota 30 April St Paul's Civic Center St Paul Minnesota 1-2 May Chicago Stadium Chicago Illinois 3 May Civic Center Saginaw Michigan 20 May Stokeley Athletic Center Knoxville Tennessee 21 May Freedom Hall Louisville Kentucky 22 May Capital Centre Landover Maryland 23 May Civic Center Providence Rhode Island 24 May Civic Center Augusta Maine 25 May Rochester War Memorial Rochester New York 26-27 May Binghamton New York 28 May Spectrum Philadelphia Pennsylvania 29 May Civic Center Baltimore 30 May Coliseum Jacksonville Florida 31 May Assembly Center Baton Rouge Louisiana 1 June Coliseum Macon Georgia 2 June Municipal Auditorium Mobile Alabama 17 June Hammons Center Springfield Missouri 18 June Kemper Arena Kansas City Missouri 19 June Omaha Civic Auditorium Omaha Nebraska 20 June Pershing Municipal Auditorium Lincoln Nebraska 21 June Rushmore Plaza Civic Center Rapid City South Dakota 22 June Arena Sioux Falls South Dakota 23 June Veterans Memorial Auditorium Des Moines Iowa 24 June Dane County Coliseum Madison Wisconsin 25 June Riverfront Stadium Cincinnati Ohio 26 June Market Square Arena Indianapolis Indiana